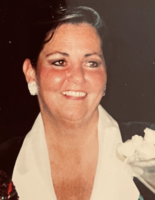 Katharine "Kitty" Lynch
Katharine "Kitty" Lynch, 71, a lifelong resident of Syracuse, NY passed away on January 17, 2022. Kitty was the youngest child of Mary Doris (O'Donnell) and Edward Lynch, both deceased.
Kitty was kind, loving, had great wit, and cherished her deep Irish roots and her faith in God. She always appreciated the natural beauty of the Finger Lakes and living in the region brought her great joy. Kitty also sought joy in telling a great story, being on a boat, swimming laps, beautiful art, and live traditional Irish music.
Kitty is survived by her two daughters, Claire Strodel McClain (Marty) of Syracuse, NY and Hilary Strodel Mughloo (Rais) of Alexandria, VA, as well as six grandchildren; Harry, Ellen, and Alyce McClain, and Sophia, Nora, and Adam Mughloo. She is also survived by her sister Mary D. Lynch of New York, NY and Ellen (John) Gallagher of Milton, MA, as well as many aunts, uncles, cousins, nieces, nephews, and friends who were like family. Kitty was predeceased by her brother, Edward (Ned) Lynch.
A funeral mass will be held on Friday January 28, 2022 at 11:00 am at St. Patrick's Church on Tipperary Hill – 216 N Lowell Ave., Syracuse, NY 13204. Burial will be private and at a later date.
In lieu of flowers donations can be made to Upstate Golisano Children's Hospital or Downtown YMCA, both of Syracuse, NY.