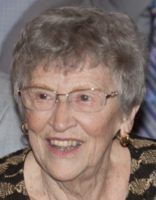 Joanne Addabbo
Joanne E. Addabbo, 90, of Syracuse, NY passed away peacefully on February 8, 2022 surrounded by family at St. Joseph's Hospital. She was a waitress for many years in restaurants in the community, and retired from the Solvay School District. She spent her life being a devoted wife, mother, grandmother and great grandmother.
Joanne was predeceased by her brother, William (Gilbert), her son, Michael A. Jr., and her son in law, Mark Merrill. She is survived by her husband of 66 years, Michael A. Addabbo, her daughters, Karen Merrill and Ann (Marty) Barrett, and her son, Joe (Nancy) Addabbo, a brother, Jack (Donna) Gilbert. She also had 7 grandchildren and 6 great grandchildren as well as several nieces and nephews.
Joanne's warmth and ability to make everyone feel like family was a true gift, and no one can ever replace her beautiful smile and spirit. Memories of her will be cherished by all those that she impacted, and her absence will weigh heavily on so many hearts.
Calling hours will be on Monday, February 14, 2022 from 4 to 7pm at the Edward J. Ryan & Son Funeral Home. A Funeral Service will be held on Tuesday, February 15, 2022 at 10:30 am at the funeral home. Burial immediately following in Veteran's Memorial Cemetery Chapel.