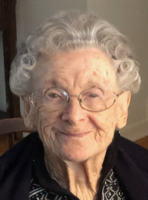 Anna M. Martz
Anna Margaret Martz, 99, of Cicero passed away peacefully at home surrounded by family.
Born in Syracuse on August 3, 1922 to the late Lawrence & Helen Fitzgerald. She worked for many years at C.E. Chappells & Sons as well as Hinderwadels Grove. She was a member of the Local VFW Post 3146 Ladies Auxiliary. Upon retirement she moved to Dunnellon, Florida where she spent 25 years of her life. She relished her time in Florida and was a member of the VFW Post 4864 Ladies Auxiliary, Red Hats of Florida and attended Seven Rivers Baptist Church.
She was predeceased by her husband, Robert W. Martz, a son, Richard E. Fenner, sisters, Patricia Fitzgerald, Helen McGlown, brothers, Joseph, Raymond, James, Edward, Leonard, Robert, Thomas and Richard as well as great great-grandson Gavin Lehotta.
Anna is survived by her daughter Kathleen Kimball, a brother Donald F. Fitzgerald, 8 grandchildren, 16 great grandchildren, 10 great great-grandchildren as well as many nieces and nephews.
Private services will be held. Burial will be in North Syracuse Cemetery.
In lieu of flowers donations may be made to Hospice of CNY, 990 7th North Street, Liverpool, NY 13088.