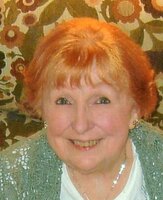 Ingrid Fornario
Ingrid Fornario of Syracuse, NY peacefully surrendered her soul to Christ on February 20,2022. Ingrid is predeceased by her husband Alvin in 2005. She is survived by her children: Erika Wagner, Tallahassee, FL, Suzanna Hier, Tully, NY, Regina Hall (Charles), Bradenton, FL, Marian Maher, Syracuse, NY, Laurie Sabel, Syracuse, NY, and Rebecca York, No. Syracuse, NY, 13 grandchildren and 19 great grandchildren.
The children of Ingrid Fornario would like to give special thanks for the excellent care and compassion she received from the staff of St. Camillus as well as the consideration extended to the family members.
Calling hours are Wednesday, February 23, 2022 from 4-6pm at Edward J. Ryan & Son Funeral Home, 3180 Bellevue Ave., Syracuse, NY 13219. A Mass of Christian Burial will be celebrated on Thursday, February 24, 2022 at 10AM at Assumption Church, 812 No. Salina Street, Syracuse, NY. Burial will be in Veterans Memorial Cemetery, 4069 Howlett Hill Road, Syracuse, NY.