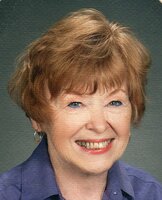 Roseann T. Shanahan
Roseann T. Shanahan passed away peacefully in her home on February 19th surrounded by her family. She was born on August 9, 1938, in Syracuse. She was the youngest of four children, and her siblings affectionately named her, "The Baby." This nickname followed her well into her adulthood. She attended St. Anthony of Padua School beginning in third grade, and she graduated from the high school in 1956. She loved her time at St. Anthony's, and she was part of the alumni who planned their many years of reunions.
In her young adulthood, she worked briefly at New York Telephone. Through mutual friends, Roseann met Thomas, and thus began their lifetime with each other. They bought a house in the Valley, where she remained until her death. Her children attended St. James School, and she worked as a volunteer in the cafeteria. As her children grew older, she began a clerical position at Syracuse Orthopedic Specialists, and she would remain there for many years before retiring in 2009.
Roseann was an energetic and feisty red head who loved to laugh, sing, dance, and socialize with her friends and family. Her fun and kind spirit will remain in the hearts of those who knew and loved her best for years to come.
She is predeceased by her parents Michael and Catherine Tiby and her brother John Tiby. She is survived by her husband of 56 years Thomas Shanahan, a daughter Susan (Maurice) Matteson, a son Michael (Amanda) Shanahan, a daughter Megan (Glenn) Christoffel, sisters Catherine Pellikka and Mary Ellen Drabot, six grandchildren, as well as many nieces and nephews.
A mass of Christian burial will be held on Thursday, March 3rd at 12pm at Our Lady of Hope Church (St. James). The family will receive relatives and friends from 11am-12pm prior to the mass. A burial will follow at Onondaga County Veterans Cemetery.
In lieu of flowers donations may be made to Hospice of CNY, 990 7th North Street, Liverpool, NY 13088.