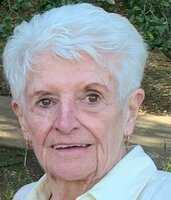 Patricia A. Limpert
Patricia A. Limpert, R.N., N.P, passed away on March 9th at her home in Camillus, NY. She was an accomplished knitter and dedicated fan of Syracuse University sports, especially basketball. Mrs. Limpert summered with her family at her camp on Sandy Pond, NY where she made life long friendships.
She was "Mom" to her children, Ted and Susie (Thum), Tina and Alex (Leclercq), Paul and Kelly (Doran), Penny, Peter and Carrie (Jarvis), Greg and Susie (Leonardo), and John Glennon; "Nani" to her grandchildren, Ted and Marci (Buehler), Quinn Shabow, Nik and Nikki (Sorrentino), Ellie and Pat (Knapp), Tyler and Gabi (Coll), Sean, Emily, Jeromy, Paul, Matthew, Saif, Ryan, Michael, Meghan and Maeve, and great granddaughter, Willa; and "Patricia" and "Patti" to her sister, Bette Zawadzki, brother, Bernard (Ellen) Quinn, several dear nieces, nephews, cousins, and beloved friends and neighbors.
Patricia was predeceased by her husband, Ted, parents, Bernard and Helen Quinn, her brother, Michael Quinn and his wife, Ann, and her grandson, Harrison F. Limpert.
Calling hours are on Monday, March 14th, 4-7 p.m. at the Edward. J. Ryan & Son Funeral Home, 3180 Bellevue Ave. Services on Tuesday, March 15th at 10:00 a.m. St. Joseph's Catholic Church, 5600 W. Genesee St. Camillus, NY.
Patricia served as a Lt. J.G. in the United States Naval Reserve Nursing Corps. Donations can be made in her name to Clear Path for Veterans, 1223 Salt Springs Road, Chittenango, NY, 13037.