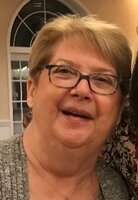 Judith Spaulding
Judith Ann Dungey Spaulding, 75 of Syracuse passed away peacefully in her home surrounded by her family. She is predeceased by her parents, John and Dorothy Dungey and her brother, John "Jack" Dungey. She is survived by her daughter, Kimberly Spaulding Rainbow (Raymond), her grandchildren, Andrew, Nicholas and Olivia Rainbow, sisters, Betty Dungey (Tom) Cadden, Mary Dungey (Mike) Sims, brother, William (Nealie) Dungey and many nieces and nephews.
Judy was a graduate of Most Holy Rosary High School, and Powelson Business Institute and current member of MHR Church. She was instrumental in planning reunions and keeping classmates up-to-date on all class news. Judy was involved with the MHR Home School Association, 81-84, and was a Eucharistic Minister for many years. She loved crafts and was active in Home Bureau and MHR craft shows; she even appeared on a local TV craft show. During her career, she worked for many local doctors but made her career as Office Manager with Upstate's Radiology Dept at 550 Harrison Center. Even after retirement, she worked part-time there to keep busy. She loved to lunch with lifetime friends, travel, spoil her family rotten and watch her favorite shows with her not so small lap dog, Molly.
Calling hours will be held at the Edward J. Ryan and Son from 4 to 7pm on Friday, March 18, 2022. Funeral services will be held at Most Holy Rosary on Saturday, March 19, 2022 at 10am. Burial will be private.
In lieu of flowers, donations to Hospice of CNY, Rheumatoid Arthritis Foundation, Food Bank of CNY, Boys Town, ASPCA or charity of your choice.