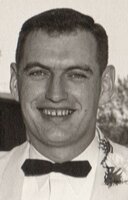 Charles L. Schmitt
Charles L. Schmitt, 85, of Liverpool, NY passed away on Sunday, March 13, 2022. Charles was born in Bath, NY on June 28, 1936, son of Charles & Victoria Schmitt. Charles was a grad of Saint Bonaventure University. He served 2 years in the US Army as a 1st Lt. He retired from many years as a sales representative and was a member and treasurer of BCA, coarched Babe Ruth Baseball and volunteered for the Empire States games.
Charles was predeceased by his wife of 62 years, Gloria. He is survived by his daughter, Karen (Alan) Karpinski, grandsons, Alex & Patrick and his two great grandchildren.
A private mass will be held.
In lieu of flowers, may be made to the Jordan Fire Dept.; 1 N Hamilton St., Jordan, NY 13080