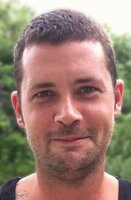 Timothy Raymond Collins
Timothy Raymond Collins, 42, of Brooklyn, passed away in his home on Monday, February 7th after a long battle with cancer. Tim, known to his friends and family, big and small, as Timmy, Tippy, Timbo, or Mimmy, was a beloved son, father, partner, grandson, nephew, and friend.
Tim was a humble master craftsman and carpenter, ever the helper, so generous with his time, and gracious to share his every skill. He was an avid outdoorsman and loved fishing, hunting, hiking, and especially camping with loved ones and his dog Jeter. Sports, darts, and drumming were favorite pastimes, spent in the company of friends, family, and a cold one. His insatiable love of reading demonstrated a more quiet and reflective spirit, complimenting his outgoing and adventurous side.
Born in Syracuse, NY, Tim embraced Brooklyn for all its grit and charm renovating a brownstone with his partner Daina, but they spent weekends, holidays, and summers where Tim will always call home — Syracuse.
Tim is predeceased by step-father, Mark E. Henson and grandparents, Raymond E. Collins, Helen Collins, Robert Davis, Lucy Henson, and Phillip Lynch. He is survived by his son, Mark Patrick Collins, his partner, Daina J. Mattis, mother, Kathi Henson, father, Larry Collins, step-mother, Susan P. Collins, brothers, Casey Collins, Spencer Collins (Sarah), Jacob Del Favero, and sister, Chelsea Pecola (Caleb), nieces, Clara Collins, Cecelia Pecola, Gabriella Pecola, and grandparents, Barbara Strange, Jim Henson, Doreen A. Lynch, and Marty Davis.
Tim was deeply loved and will eternally be missed. Rest in Peace.
Please consider donating to Tim's favorite charity: St. Jude's Children's Research Hospital.
And feel free to share your memories on this virtual wall or bring letters, poems, drawings, and/or notes to be buried with his cremated remains on Saturday, May 21, 2022 at 12pm in St. Patrick's Cemetery in Otisco, NY.