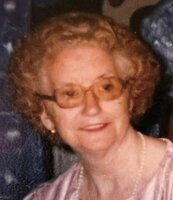 Johanna "Hannah" Murphy
Johanna Dwyer Murphy, 98, passed away Thursday, April 21. Hannah, as she was called by her friends and family, was born in County Wexford, Ireland. She came to the United States in 1948. When she settled in Syracuse, Hannah worked for Onondaga Pottery and later worked in health care at Upstate Hospital. Hannah was a parishioner at St. Augustine Church in Syracuse. She diligently worked at fundraising for various church activities. She resided at the Hearth at Greenpoint in Liverpool, New York.
Hannah was predeceased by her husband, Andrew, sons, Joseph and John, brothers Patrick of Syracuse, James, John, Michael, and sisters, Mary and Bridget of Ireland. She is survived by her son, Michael, and many nieces and nephews.
A Mass of Christian Burial will be celebrated will be celebrated at 10 am Thursday, April 28 at St. Augustine Church. Interment at St. Mary's Cemetery, Dewitt. Friends and relatives may call at the church's chapel from 9 to 10 am.
In lieu of flowers, donations may be made to the Assumption Church Food Pantry.