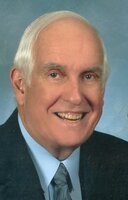 William Schoeneck
William "Bill" H. Schoeneck, age 87, a lifelong resident of Syracuse passed away peacefully on April 29th, 2022, with his loving family by his side.
The most kind and caring man, Bill dedicated his life to his family and would go out of his way to help them in any way possible. Bill spent two years in the Naval Reserve before attending LeMoyne College. He then worked for Wise foods for 30 plus years.
When Bill wasn't working, he especially enjoyed being at the "Schoeneck Compound" on Otisco Lake with his immediate and extended family. His two favorite parts were going out on the pontoon boat with mom and then having "Gin and Tonic Time" at 5pm with mom, his brothers John and Dave and their beloved wives Carol and Therese. Bill will be deeply missed by all who knew and loved him.
Predeceased by his loving wife Barbara Hyland Schoeneck and his dear brother Ferdinand (John) Schoeneck and John's wife Carol Schoeneck.
He is survived by his daughter Katherine Schoeneck (Anne Coulson) and sons James Schoeneck and Patrick Schoeneck (Theresa). Brother David Schoeneck (Therese) and his sister Christine Hart (Keith), one grandchild Joseph Eldred and many nieces and nephews.
A Mass of Christian Burial will be held Thursday May 5, 2022 at 10am at St. Charles Borromeo Church. The family will receive friends and relatives from 9-10 prior to the mass. Burial will be in Onondaga County Veterans Memorial Cemetery.
In Lieu of flowers, memorial donations may be made in Bill's name to Hope for Bereaved, 4500 Onondaga Blvd, Syracuse, NY 13219 or at Hopeforbereaved.com
A special thanks to caregivers Chris Riccardi & Janet Wells for years of devoted care of Bill at home as well as the staff at The Cottages.