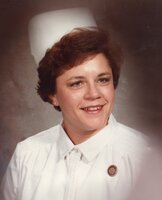 Susan Jo Franchina
Susan Jo Franchina, born 1/15/1945 in Chicago IL, passed away on 5/18/2022 in Syracuse NY.
She grew up in Berwyn and Naperville IL, and graduated from Nazareth Academy. Susan married Joseph J. Franchina in May 1967. Susan was a loyal friend, a florist, gardener, birder, and painter. As a mother, she was a fierce defender and involved volunteer.
Susan's proudest moment was receiving her degree as a Registered Nurse in 1985. "Once I became a nurse, I never lost sight of my goal to help other people". She worked for 15 years at the Hammond Clinic in Munster IN.
After losing her husband to brain cancer in 1995, she became a grief counselor, and volunteered at a resale shop.
In 2005, Susan left her lifelong friends to join her daughters and grandchildren in upstate NY. She was an unconditionally loving and supportive Mom and Nana, and continued to help others by volunteering at Hope for the Bereaved and Vera House, where her nursing skills and empathy were highly valued.
Susan enjoyed word games, especially Scrabble; her favorite movies were "The Wizard of Oz" and "It's a Wonderful Life". Friends and family will miss her frequent hand-written notes of love and support.
Susan was predeceased by her parents, Benedict and Agnes (Brochocki) Zaker; brother James Zaker; sister Lois Flurkey. She is survived by daughters Cheryl (Joseph) Hardick and Angela (Bryan) Luce; grandchildren Arthur, Gryffin, Brigid, Sophia and Matthew as well as a step-brother Paul (Karen) Brooks.
In lieu of flowers, please donate to Vera House www.verahouse.com or www.hopeforbereaved.com. Calling hours will be Wednesday, 6/1/2022 from 4-7 pm at Most Holy Rosary Church, 111 Roberts Ave Syracuse, NY 13207, with a mass on Thursday, 6/2 at 11 am at church.