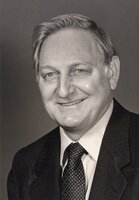 James Gorman
James P. Gorman, 94, a lifelong resident of Syracuse passed away on May 21, 2022. Jim was the son of Madeline "Ma" Gorman. He attended St. Anthony of Padua school where he was captain of the basketball and baseball teams – each winning parochial league championships. After serving in the Navy at the end of WWII, Jim was a member of the first graduating class of the newly formed LeMoyne College. He joined the Army during the Korean Conflict and was trained as a Japanese and Korean interpreter at the Army Language School in Monterey California. Jim enjoyed a 38-year career at Niagara Mohawk, rising to the level of Vice President of Internal Audit head of the Ethics Committee. A long-time parishioner of St. Ann's Church, Jim was an usher, sacristan and particularly enjoyed teaching Faith Formation. An avid golfer, Jim was a member of Bellevue County Club and served on its Board of Directors in the 1980's. He loved playing cards – especially Bridge, Pitch and Gin Rummy.
Jim is survived by his wife of 64 years, Joan (Heitzman) Gorman, two sons, James Gorman Jr and Christopher (Nancy) Gorman, granddaughter Emma, step grandson, Brad Sniper and many nieces/nephews, grandnieces/nephews and great grandnieces/nephews.
The family extends their gratitude to Jim's nurses: Donna, Helen and Danni. Without your love and support, we never would have been able to keep him at home these past couple of years.
Funeral services will be held on Friday, May 27, 2022 at 3pm at St. Ann's Church, 4471 Onondaga Blvd. Calling hours will be held on Thursday, May 26, 2022 from 3-6pm at the Edward J. Ryan and Son Funeral Home, 3180 Bellevue Ave. Burial will be private. Contributions may be made to Catholic Charities of Onondaga County, 1654 W Onondaga St, Syracuse, NY 13204.