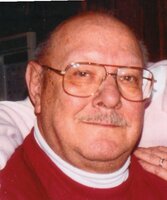 Stephen Prosonic, Jr.
Stephen Prosonic, Jr., 92, New Port Richey, Fl, passed away Thursday, May 26, 2022
Steve was a professional meat cutter and foreman for the Dewitt Packing company and several other companies before he retired. After retirement, Steve moved to Florida where he and Joyce enjoyed many years of hearing big bands at Busch Gardens and going on day trips with long-time friends. They also enjoyed traveling back to NY during the summer to their camp on Three Mile Bay, NY where they spent time with their children and grandchildren.
Steve was a marine veteran, serving in the Korean Conflict from 1948-1952 where he was a staff sergeant and chef. He also qualified as a sharp shooter and received several honors and medals during his service. Steve was past commander of the Tipperary Hill Post #1361 and a member of the Syracuse Elks Lodge.
Steve was predeceased by his first wife, Carol Alexander Prosonic, a son Douglas C. Laws and daughter Cynthia A Briggs.
Steve is survived by his wife Joyce M (Haffenden) Prosonic, children Stephanie A. (Charles) Hobart, Sharon M. (Gerald) Jarvis, Richard K. (Rosanne) Laws, Michelle (Kevin) O'Brien, Lynette G. (George) Hall, Stephen M. (Michiko) Prosonic, John A. Prosonic, and David C. (Leslie) Prosonic, 17 grandchildren, 22 great grand children and 5 great great grandchildren.
A mass of Christian Burial will be held Tuesday, June 7, 2022 at 10am at St. Michael's Church, 4781 West Seneca Turnpike. Calling hours will be held on Monday, June 6, 2022 from 4-7pm at the Edward J. Ryan & Son Funeral Home, 3180 Bellevue Ave. Burial with military honors will be held at Onondaga County Veterans Memorial Cemetery immediately following mass.
In lieu of flowers, donations may be made to the Carol M. Baldwin Breast Cancer Fund, PO Box 187, Warners, NY 13164.