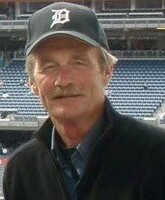 William Daniel Setter
William "Billy" Daniel Setter, loving husband and father passed away Wednesday, June 1st, 2022 at the age of 73.
Born in Syracuse, NY, Billy later resided in Clay, NY with his wife, Cynie. After graduating from North Syracuse High school in 1966, Billy was a proud member of the United States Navy serving his country during the Vietnam War. After his time in the military he worked for Eastern Airlines for 20 years. When Eastern Airlines closed their doors Billy became a school bus driver for North Syracuse Central schools where he worked for 25 years retiring in 2021.
Billy was a dedicated family man with an unrivaled love for his family. He was an avid hunter, fisherman, and baseball player who was well known for his comical sense of humor which made Billy the constant life of the party.

Billy is survived by his wife of 46 years, Cynie Setter, children, Brittany (Jeff) Bair of Niceville, FL, Bradford Edward (Stacey) Setter of Marietta, NY, and Lindsay Setter of Marietta, NY, and sibling, Greg (Lisa) Doyle of Orlando FL.

Calling hours will be 1PM-3PM Sunday, June 5th at Edward J. Ryan and Son Funeral Home, 3180 Bellevue Ave. Syracuse NY 13219. Funeral will be held at 9AM Monday, June 6th at the funeral home. Billy will be laid to rest at Amber Cemetery in Marietta, NY.
In lieu of flowers and in honor of Billy's love for animals, the family would welcome donations to the local helping hounds dog rescue of North Syracuse.
Donations can be made at 7268 Caswell Ave, North Syracuse, NY 13212