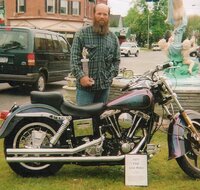 James P. BeVard
James (Jim) BeVard, of Red Creek, New York passed away unexpectedly on Wednesday June 8, 2022, at the age of 65.
Jim is predeceased by his parents, Ralph Edward BeVard and Virginia Rose Fleming BeVard, as well as brothers, Ralph Edward BeVard Jr. and Peter George BeVard.
Left to cherish his memory are his wife Charlotte Logan BeVard of Red Creek, New York. Children, James Phillip BeVard II (Mary), Robert John BeVard, Amanda Lynn Brown (Thomas), Johnathan Michael Rummings. Grandchildren, Edward Louis BeVard, Nathanial Edward BeVard, Marianna Renee Brown, Kianna Rose Brown and Breanna Rae Brown. Siblings, Virginia Rose BeVard, Marilyn BeVard Prehm, Karen BeVard Tucker (Jack), Jon Michael BeVard (MaryJane), Laurie Wright Brown and Marcus Werner BeVard. Jim's memories will also be carried on by his Step-Mother Renate BeVard and many, many nieces, nephews, cousins and close friends who were like family to him.
Jim was a hard worker, a gentle soul and a man of many talents. He attended Fayetteville-Manlius High School prior to serving in the US Army. Throughout the years he was employed as maintenance manager at several apartment complexes, and as a maintenance mechanic for several companies, including Bimbo Bakery, from which he recently retired.
Favorite pastimes of Jim's obviously included motorcycling, but he also cherished time spent with family, a good bonfire, traveling and doing projects (lots of projects). Jim genuinely enjoyed helping people and could fix anything, including completing a full restoration of his prized possession, a 1977 Harley Davidson FXS Low Rider.
One of the few things that Jim did not have to fix was an Indian motorcycle that he purchased brand new, for the ride of his life. In August of 2017, he spent 30 days riding that Indian cross country and on Route 66, racking up 7,934 miles of treasure filled memories.
Calling Hours will be held on Tuesday, June 14, 2022 from 3:00 to 6:00 at Edward J Ryan & Son Funeral Home, 3180 Bellevue Avenue Syracuse, New York, 13219. A service will be held at 6pm immediately following the calling hours. Burial will be private.
Once services are complete a bonfire will be held at Jim and Charlotte's in his honor.