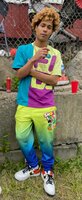 DaSheem I. East
DaSheem I. East, 20, of Syracuse, passed away on June 20, 2022. He was an up and coming artist who liked to play Xbox especially 2K and was extremly family oriented and his world revovled around Lebron Anthony.
DaSheem was predeceased by his brothers, TyShawn & Elijah; grandmothers, Melba and Millie; grandfather, Albert; aunt, Latonia and uncles, Frankie & Shawn.
He is survived by his son, Lebron Anthony, parents, Will East and Tracie (Twan); siblings, William Jr., Lameek, and Shyquest East, and twin Nene (Stevo), Lil Twan, Devina, and Jaheim Burns; maternal grandmother, Darlene; niece and nephews, Abrianna, Abel, Legend, babymomma, Vic as well as several aunts, uncles, and cousins.
Private Services were held. The funeral service will be available for viewing thursday June 30, 2022.
In lieu of flowers, donations in DaSheem's memory may be made to his funeral service fund to the Edward J. Ryan and Son Funeral Home.