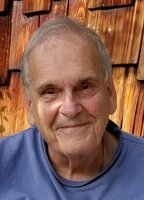 John B. LaParo
John B. LaParo, 86, of Onondaga Hill passed peacefully at home surrounded by his family following a brief illness. Born in Liberty, NY to the late Carmelo LaParo of San Fratello, Sicily and Margaret Sammon of Clogher, County Mayo, Ireland. He grew up in Oneonta, NY. John graduated high school at the age of 16 and continued on to graduate from Syracuse University in 1957 on an academic scholarship. He then graduated from Albany Law School in 1960. Returning to Syracuse later that year, he started his law career as an assistant welfare attorney before joining Dick Hennessy's DA'S office. He was then promoted to chief assistant district attorney. While in that position he held many accomplishments. He contributed to the inception of the Stop DWI Program as well as assisting in the implementation of the Victim Impact Panel Program. Following his retirement from the Onondaga County District Attorney's office in 1997, he continued practicing private law with the Piro Law Firm for many years. John was an accomplished linguist, speaking many languages and even taught Irish through OASIS. He enjoyed traveling the world with his wife and grandkids, where he could practice his discourse.
John was predeceased by his parents and his two older brothers, Anthony and Henry LaParo, a daughter, Jeanette Vassar and grandson, Charles Vassar.
He is survived by his wife of 52 years, Myung Ja (Lee) and daughter, Mona LaParo, his grandkids, Peter, Larissa, Bridget Hanuszczak and Laura Kelley (Sean) and Elisabeth Vassar and Katherine (James) Sullivan. Also surviving are his 3 great grandkids. Logan and Ava Strube and Dylan Hanuszczak as well as several nieces and nephews.
Services will be private.
In lieu of flowers, donations can be made to OASIS Learning Center; 6333 NY-298, East Syracuse, NY 13057.