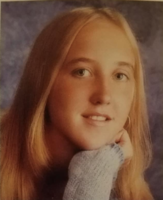 Mary Beth Donegan
Mary Elizabeth Donegan went to paradise to join her "Irish twin" brother Christopher on August 12th, 2022 as a result of an accidental fall.
Marybeth was born on November 28th, 1984 in Syracuse, NY. She attended Most Holy Rosary Grammar School, John T Robert's Junior High, graduated from Corcoran High School and attended Medaille College in Buffalo NY where she later called her home.
MB was the most loving mother to her three children: Brandon Michael, Ethan Maddux and Aliyah Marie Miller. She will forever be in their hearts. "Blow me a kiss and hold it to your heart".
Marybeth was the only daughter of Terrance and Christine Donegan and the crazy, beautiful sister of Terrance Jr., Peter and her "angel" brother, Christopher.
She is also pre-deceased by her grandparents, Edward and Gertrude Donegan and Robert and Shirley Hayes.
Marybeth loved her children most of all "to infinity and beyond." Despite being diagnosed with Multiple Sclerosis she never let it slow her down especially when it came to her "littles". She was a giant fan of the Atlanta Braves, Syracuse basketball and Buffalo Bills football "let's go Buffalo." She was adventurous, caring and a good friend to many especially Rick Miller.
She will be truly missed by many aunts, uncles, cousins and friends. The Donegan, Hayes and Miller families would like to thank everyone that has helped them during this very difficult time.
A Mass of Christian Burial will be held Monday, August 22, 2022 at 12:00 noon at Most Holy Rosary Church, 111 Robert's Ave., Syracuse, NY. The family will receive friends and relatives from 11am-12:00 noon prior to mass at church. Burial will be private.
In lieu of flowers please consider donating to an educational fund set up for her children at ugift529.com code 46U-63F or checks payable to Terrance Donegan, 424 Stolp Ave. Syracuse, NY 13207.