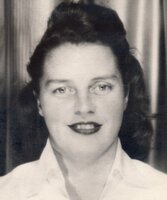 Shirley May DeRyke
Shirley May DeRyke, 91, of Syracuse, NY passed away Saturday, September 10,2022 at Upstate Hospital in Syracuse NY. She was born in Spafford, NY Jan. 27, 1931. Shirley worked over 60+ years in the produce packing industry, lastly working for Syracuse Banana Co from 1998 until Covid, when she was no longer able to work.
She was preceded by her parents, William and Florence (Fike) Gilmore, her brother, Thomas, two sisters, Dorothy (Gilmore) Widger, and Ann (Gilmore) King.
Shirley was survived by two sons, Clifford Aubrey of Cleveland, NY, Robert Stoneburger of Port Byron NY, and one daughter, Darlene Widger of Syracuse, several grandchildren and great grandchildren, two brothers, Richard of Louisiana and William of Florida and many nieces and nephews.
Per her wishes there will be no service.
In lieu of flowers, donations in her memory may be made to CNY Cat Coalition; "CNYCC," PO Box 6182, Syracuse, NY 13217