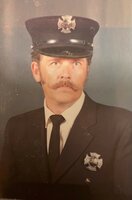 John Patrick Barrett
John P. "Jack" Barrett, age 86, of Tipp Hill, Syracuse, NY. passed away on January 2, 2023. He was at home, surrounded by his family. Jack was predeceased by his parents, John J. Barrett & Katherine Karins Barrett, as well as his sister Kathleen Flanagan.
Jack married the love of his life, Geraldine T. White on June 2, 1956.
He served as a Syracuse city firefighter for 35 years. he was affectionately known as "Zip" to his fellow firefights due to his card playing prowess. He was an active union member with Local 280 of the International Association of Fire Fighters, contributing as Vice President of the Executive Board and negotiating committees. He retired as Lieutenant on September 7, 1993. He was awarded many honors, including the recipient of the Arthur Jenkins award for bravery , the Francis Hendricks Medal of Honor, as well as being Firefighter of the Year in 1969. He received numerous citations during his time as a professional firefighter acknowledging his bravery and commitment.
He enjoyed teaching the St. Patrick and St. John the Baptist Ukraine kindergarten students fire safety. He loved being Santa Claus for the St. Patrick school. Jack was a devout Catholic and parishioner of Saint Patrick church (Tipperary Hill) for 50 years. He was a member of the Ancient Order of Hibernians, and very proud of his first generation Irish- American heritage. He was an accomplished player of the fife, drums, piano and accordion.
He loved the Lord, his family, and hunting with his sons. He participated in the Valley Field Days special days for Children with Down Syndrome. His favorite charities are Tunnels to Towers, Saint Jude Children's Research Hospital and Upstate University Clarks Pediatric Burn Unit.
Jack is survived by his wife of 66 years, Geraldine T. Barrett; children John (Kristine) Barrett, Therese (Nicholas) Cacchione, Beth Barrett, Patrick Barrett (Jacqueline), Martin Barrett (Ann), Rosemarie Lisi (George) and Christine Barrett BeVard, 28 grandchildren, 27 great grandchildren with 2 more on the way, scores of nieces, nephews, and a dear family friend, Mary Rielly.
Jack was the most unassuming, kind, selfless person we have had the pleasure to know and love. If any man could attain half the good of Jack Barrett, the gates of Heaven will be wide open for that man. Dad, you are our HERO !
Calling hours will be Friday, January 6, 2023 from 4 to 7 pm at Edward J Ryan Funeral Home, 3180 Bellevue Ave, Syracuse, NY. A Mass of Christian Burial will be celebrated on Saturday, January 7, 2023 at 10am at Saint Patrick-St Brigid Church, Tipperary Hill. Burial will be in St. Mary's Cemetery.