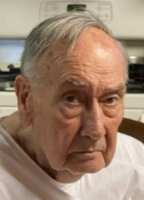 Paul Henry Lambertson, Sr.
Paul Henry Lambertson Sr., 89, of Camillus, NY passed away at home on Tuesday, January 3, 2023. Paul was a machine operator with Presto Lite and a member of The National Guard. He enjoyed bowling and camping.
Paul is predeceased by his wife, Helen. He is survived by his children, Paul (Marie) Lambertson, Mary (Steve) Eastman, David (Michelle) Lambertson, and Sharon (Robert) Sharp, 10 grand children and 10 great grandchildren.
A funeral service will be held on Sunday, January 8, 2023 at 3:30pm at the Edward J. Ryan and Son Funeral Home, 3180 Bellevue Ave. Calling hours will be held from 2 to 3:30pm prior to the service.