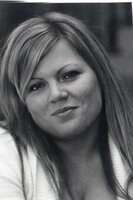 Becky Maloney
She was born Rebecca Marie Maloney, but known to many as Becky, Reba, and devoted friend. Becky grew up in Syracuse, NY and lived most of her adult life in Astoria, NY and Delray Beach, FL. Her favorite memories were of time spent with loved ones at Otisco Lake.
Becky, (40), attended Most Holy Rosary, Bishop Ludden and Nazareth College where she earned a degree in Elementary Art Education. Throughout her life, Becky established a reputation for being a lover of adorable things, good food, and expensive items bought on discount. She was formidably clever, entertaining, and a nerd of repeat movie quotes.
Becky's many lifetime achievements include being a member of the top 1% of CVS Pharmacy savers in the state of Florida, a sharp knowledge of Jeopardy clues, and maintaining a lavish lifestyle on a sensible budget. Her greatest achievement was the honored and esteemed recognition of Funniest Aunt.
Becky's determination and strength granted her renewed health after a struggle with addiction. Our cherished time with her was made possible through the selfless act of organ donation, a gift that we are forever grateful for.
Becky spent her life with her adoring parents Jim and Debbie, her beautiful and talented sisters Kerri, Melissa, Katie and Beth; her comrades, puzzle partners and brother in-laws Carl, Joe and Mike; her treasured nieces and nephews Liam Maloney, Shea and Dylan Vonnegut, Sammy and Ryan Diprojetto and MJ Siskowski; and countless beloved aunts, uncles, cousins and cherished friends, both young and old. Becky is predeceased by her adorned Grandparents Ruth and John Maloney, Gertrude and Edward Donegan, and several close family members and friends.
Becky found her true love, and in true love fashion, was followed into the great beyond by her cherished dog Rufus Bader Ginsburg Maloney, who enjoyed a life full of toys, not following the rules and a wardrobe influenced by Harry Styles.
Artistically talented in many mediums, a giver of thoughtful gifts and considered a treasure to those who knew her, Becky's legacy will not be clouded by violence, yet a reminder that light and hope will always outshine darkness and that laughter truly is the best medicine.
In lieu of flowers, donations can be made to the Alpha-1 Foundation, Caron Treatment Centers, the Miami Transplant Institute, or any charity that directly supports victims of violent crimes.
Calling hours will be held on Friday, Jan 6th from 4-7pm at Most Holy Rosary Church. A celebration of life will be held on Saturday, Jan 7th at 10am at Most Holy Rosary Church 111 Roberts Ave, Syracuse NY 13207