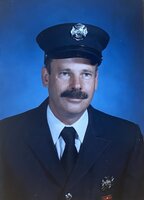 Thomas J. Howard
With tremendous sadness and profound love, we announce the passing of Thomas J. Howard, 71, of Westvale, on Sunday evening. He was surrounded by his loving wife of over 48 years, Janet, and his two adoring daughters, Jamie (Huntington) and Julie (Taylor). Tom is also survived by two admiring sons in law, Rob Huntington and Patrick Taylor; four sweet grandchildren, Ellie and Tommy Huntington, and Penelope and Eleanor Taylor, who loved their grandpa so; his beloved extended family, and countless friends.
Tom lived a life of incredible significance. He made those around him better with his characteristic patience, unwavering strength, loyalty, gentle nature and unmistakable sense of humor. He graduated from Most Holy Rosary High School in 1971 and shortly thereafter joined the Syracuse Fire Department, where he worked for 32 years. Tom never viewed his job as work; his calling was to be of help and service to others, and he did so with duty, ease and a great deal of fun. His fellow fire fighters were like family to him, a mischievous band of brothers who entertained one another when they weren't busy saving people's lives and homes.
Tom was an expert ­breakfast cook, whipping up French toast and poached eggs with delight; a talented gardener and toiler in the dirt; an amazing painter/wallpaper guy (and Janet gave him ample opportunity to use these particular skills), and a self-professed lousy golfer, though Lord knows he practiced persistently to get himself to mediocre status by retirement. The most important part was he loved golfing with friends, even in the years when his body started conspiring against him. His quiet strength and fortitude were always operating behind the scenes. Tom's resolve inspired awe, and he did it all without the desire for a shred of recognition. ­
To say that Tom will be missed is a great understatement. It is better to say that he will be loved as fiercely now as he was when he was alive and here with us. He is forever a part of those of us who had the deep honor of calling him our husband, dad, grandpa, family or friend. A celebration of life will be held at Twin Trees Too on January 22 at 5pm. Donations in Tom's memory may be made to the Special Olympics of New York-Central Region and CNY SPCA.