3180 Bellevue Ave | Syracuse, New York 13219 | Phone: (315) 468-3443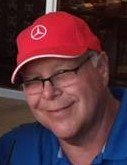 Obituary of William E. Riggall, Jr.
William E Riggall, Jr., 63, of Syracuse passed away Thursday December 29, 2017.
Bill was a graduate of Marcellus High School and St Joseph's College of Nursing. He was a member of the US Air Force from 1973-1977. He retired after 38 years with St. Joseph's Hospital where he was a Registered Nurse working as an Operating Room Clinical Coordinator. He was a communicant of St. Ann's Church on Onondaga Blvd.
He was predeceased by his father, William Riggall Sr.; brother, Robert Riggall; Father in-law John Schoeneck and his brother in-law Michael Schoeneck.
Bill is survived by his wife of 42 years Barbara (Schoeneck); sons, Michael (Erica) and Thomas (Sally); his mother Evelyn Riggall; grandsons, Jake and Luke; brothers, Paul (Karol), Marshall (Bridget) and his sisters Wanda (Jerry) May, Deborah Riggall, Susan DeMarco and Marjorie (Tommy) DiMorier.
A Mass of Christian Burial will be held on January 2, 2018 at 10am at St. Ann's Church, 4471 Onondaga Blvd, Syracuse, NY 13219. Calling hours will be held Monday, January 1, 2017 from 2:00-5:00 pm at St Ann's Church, Onondaga Blvd. Burial will be in St Mary's Cemetery, DeWitt, New York.
In lieu of flowers contributions can be made to: Hope for Bereaved, 4500 Onondaga Blvd, Syracuse, NY 13219.