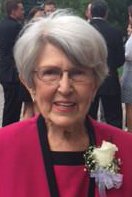 Obituary of Mary Katherine "Kay" York Kelley
On Thursday morning, December 12, 2019 Mary Katherine Kelley, better known as Kay, passed away after a long period of illness. Kay had just marked her 93rd birthday.
Kay was born on December 4th, 1926 in Oneida, New York. She was the daughter of Helen Sophia and Henry Royce York. She had one sister, Anne Elizabeth Rider, who sadly passed away as well recently, on October 19th. They lived primarily in Sherrill, New York.
Her father passed away when she was just a child and her mother, navigating the Great Depression, moved the girls around following work, but ended up back in Sherrill where Kay graduated from Canastota High School in 1944.
Kay went on to Cornell University and graduated in 1948 with a Bachelor of Arts, majoring in French.
Following Cornell, she went to work at Oneida Limited, the silverware company. There she met her husband, Francis Edwin Kelley, a salesman at the company. They married in April of 1949.
She and Ed went on to have five children. Anne (sp. Paul), Jonathon (sp. Irina), Christopher ( sp. Catherine), and twins - Stephen and Mark.
The early part of their life together looked like the typical American household in the 1950s. Ed traveled for business and Kay stayed home to raise the Anne, Jon, and Chris. She enjoyed homemaking, cooking, and baking. The Kelley family often took camping trips with the Rider family almost always having misadventures that are still laughed about now.
In the early 1960s, the Kelley family moved to Syracuse, and Robineau Road. At this point Kay, having gotten the three older children into the school years, decided that she too, was ready for more intellectual challenge, and enrolled in a program at Syracuse University. She received a Masters in Education in 1970. That year also brought the birth of twins Stephen and Mark.
They 1970s were a tough decade for Kay, but her perseverance, intelligence, and empathy, guided her through the challenges of working while having two young children, older children in college, a nearly fatal bout with colon cancer, and the death of Ed in 1979.
Kay, now a single mother, spent the 1980s balancing a teaching career with the Syracuse City School District and raising the twins, she retired from the School District in 1989.
This period of retirement didn't last long, as Kay, always one for purpose as well as intellectual and social stimulation, took a job in 1993 with the Onondaga County Office of the Aging as a Senior Employment Coordinator. A position she maintained until 2007 (yes – til she was 80!)
Along the way she also welcomed four grandchildren into the fold – Damon, Kira, Morgan, and Mary Kate, and ultimately four great grandchildren – Braylon, Landon, Jack, and Madeline.
Life wasn't all about work for Kay though, she was an avid reader, loved movies, and to socialize.
She was often found on her front porch talking with neighbors, anchoring an aisle at Wegmans chatting, or hosting summer lunches for neighborhood ladies (which later became dinners at her son's restaurant, Kelley's) ,
Overall, Kay was a very intelligent, caring, and strong woman that led her family and loved ones through many storms but always found the clearing.
Kay was a long supporter of the missions of the Food Bank of Central New York and Vera House. She asked that those seeking to donate in her name direct their giving toward these two groups.
The family would also like to thank the staff at Menorah Park in Dewitt for the wonderful care, especially in her last days.
For many years, Kay's favorite expression and an cap on most phone conversations was 'things work out', those who knew and loved her sense of optimism and comfort from this mantra, and will carry this with us always.
Au revoir. We will miss you her dearly.
Funeral services will be on Monday, December 16, 2019 at 11:30am at the Edward J. Ryan and Son Funeral Home, 3180 Bellevue Ave. Syracuse. Calling hours will be 9:30am to 11:30am prior to the service. Burial will be in Stockbridge Cemetery, Munnsville, NY.
Calling Hours
9:30 am - 11:30 am
Monday, December 16, 2019
Edward J Ryan & Son Funeral Home, Inc.
3180 Bellevue Avenue
Syracuse, New York, United States
(315) 468-3443
Funeral Service
11:30 am
Monday, December 16, 2019
Edward J Ryan & Son Funeral Home, Inc.
3180 Bellevue Avenue
Syracuse, New York, United States
(315) 468-3443
Burial
1:00 pm
Monday, December 16, 2019
Stockbridge Cemetery
Middle Rd
Munnsville, New York, United States