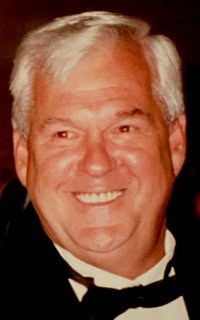 Obituary of Robert "Bob" Barcza
Robert Louis Barcza passed away on Friday, December 18th, in the Covid-19 isolation unit of Loretto Nursing Facility. His family dearly hopes the surroundings of his final days were warm, calm, and peaceful. He was a defenseless victim of the global pandemic, last seen, spoken to, and adored by those who loved him, through the lens of a fifth-generation iPad, held in the hands of a gentle, compassionate nurse.
Bob, a 52-year resident of Onondaga Hill, and committed member of The Church of St. Michael and St. Peter, left behind his high school sweetheart, Maureen, wife of 54 years; devoted son, R. Scott (Lisa) of Onondaga Hill, steadfast daughter, Lauren (Ken) Holmes of Philadelphia, four reverential grandchildren, Braeden and Rylee Barcza, and Hayden and Beckett Holmes; sister-in-law Eileen (Reid) Martin, brothers-in-law James (Susan) Farrell and Mark Farrell; many grateful and caring nieces, nephews, and cousins. He was predeceased by his parents, Louis and Veronica Barcza, his sister, Jane Abbott, and his parents-in-law, Edward and Geraldine Farrell, as well as his dearest friend, Fred Muratore.
Bob was an affectionate, generous, protective husband, father, "gramps," and "papa." He was curious, playful, animated – a master of the well-executed expletive, gifted in the fine art of the non-verbal cue. His facility for restraint and subtlety… not so much. His opinions, he rarely whispered. High school mates identified his gregariousness early, having elected him "Class Conversationalist" in 1961, his senior year at Onondaga Valley Academy. While he loved sports, like fishing and golf, they only occasionally loved him back. His "spirited" nature with the rod or club may have, once or twice, incurred replacement costs, his gear somehow damaged after spending a day doing what he loved. Bob was a passionate spectator, too – a fixture on the courts, fields, and courses of his grandkids' lives, always their loudest cheerleader, just as he had been for his own children's pursuits. Jim Boeheim would have appreciated Bob's ardent play-by-play commentary and armchair officiating.
Bob had strong, beautiful hands – rugged but gentle, used to tenderly stroke the damp cheek of a distressed grandchild or adroitly maneuver the nearly microscopic metal components of his vintage model cars. A rare day away from the office was, to his patient wife, a "win" if she did not find him under the hood of his classic black '68 Corvette, in his newest pleated Dockers, using a guest bathroom hand towel to clear the mess of a perpetual oil leak. That car, known successively to each of his grandchildren as "The Batmobile," was a labor of pure love. It would be his gift to his first grandson, come hell or highwater.
Some of his family's fondest memories are of Bob taking multiple campsite breakfast orders from behind his old green Coleman stove. Summer mornings on Brown Tract Pond, the aroma of bacon and his specialty buttermilk pancakes, saturating the Adirondack air. Seemingly interminable car rides to Virginia Beach, folded like origami in the backseat of a Datsun 280ZX, dad's Marlboro voice transporting us to the Copacabana; The Jazz Singer crooning Sweet Caroline and Love On The Rocks. Dad could body surf as if raised on a warm coast. He could blow a trumpet and "a gasket." He believed risk was necessary for growth. He taught both his children to drive, lessons from which both have thankfully recovered.
A college student prior to the Vietnam draft, Bob was on active duty with the US Army Corps of Engineers on the first anniversary of his wedding, a day which also welcomed the birth of his first child. Upon return home from Southeast Asia, he commenced what would be a nearly 55-year career in business. His first independent endeavor, an office supply store, opened in 1968. He subsequently traveled the country as a regional manager for the Shaw-Walker Company, a position that set his trajectory in the office furniture orbit. Along the way, he recruited his son, fresh from university with a business degree and a vision. After over a decade together as a team, Bob and his son, Scott, culminated their efforts with the opening, in 1991, of Roberts Office Furniture Concepts, Inc. – a business that continues to serve the East Coast region, designing, manufacturing, and selling green, sustainable office furniture systems, all produced locally in Liverpool, NY.
Over the course of his adult life, Bob seemed never to lose sight of the bigger picture. Family came first. He worked hard, always, motivated by a deep, ceaseless drive, but ever mindful of the meaningful whys – his wife, his children, his grandchildren, his work, his faith. He will be missed every day until the end of our days. Rest easy, dad. We've got this.
We are indebted to several caregivers who helped Bob, our dad, during the last months of his life; those who advocated for him, watched over him, or made it possible for him, in his final days, to be with us through the screen of a hand-held device. Especially meaningful to us were the acts of profound kindness and thoughtfulness extended by those at Loretto's "Heritage," who tended to our dad, held his hand, brushed his hair, and delighted in his everyday dream-like "business dealings," smiling and playing their respective roles as he walked the hallways and gathering spaces, inspecting furniture and taking inventory. They indulged the consummate tradesman and executive he had always been, and for that we will be ever grateful.
Due to safety concerns and pandemic restrictions, a memorial service and Mass of Christian Burial require postponement.
To honor Bob and hopefully, somehow, help others who suffer with frontotemporal dementia, or who bear painful witness to its symptoms in a loved one, donations may be made online at Penn Frontotemporal Degeneration Center Gift Fund or by mail, with a check payable to "Trustees of the University of Pennsylvania" with "Penn FTD Center Research" indicated in the memo line, sent to:
Attention: Laira Lucas
Penn FTD Center
3 West Gates
University of Pennsylvania Medical Center
3400 Spruce Street
Philadelphia, PA 19104