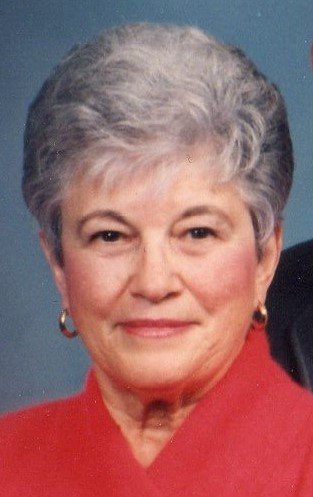 Obituary of Anita Fini
The family of Anita Fini is mourning the passing of their beloved mother, grandmother and great-grandmother. Anita was born in Buffalo, New York to John and Maria Del Bel in 1921, and remained in the area, graduating from Kensington High School and working as a secretary until her marriage to Anselmo "Sam" Fini in 1941. The pair began their married life in Utica, New York and later returned to Buffalo. Due to her husband's job, they moved to Syracuse in 1960, where they spent much of their lives. Along with raising four children, she worked briefly at Split Rock School as a teacher's aide.
Anita was known for her exceptional sewing abilities, especially her cross stitching. She volunteered at St. Ann's Holiday Open House — where she was especially proud to be the chair of the sewing booth — and Community General Hospital. Anita also loved crossword puzzles and word searches, and did them daily. She was known to enjoy many a game of bridge, with her friends both here and in Florida. A true Italian, Anita loved making homemade pasta with her three-foot rolling pin (no pasta machine allowed). Holiday dinners were always an Italian feast.
After her husband's retirement, the couple split their time between Syracuse and Fort Myers, Florida.
Anita was predeceased by her husband, Sam, in 2009, as well as her brothers Peter and Calvin Del Bel. She is survived by her sister, Mary Pagano of Buffalo. Anita leaves behind four children: Thomas (Margaret) Fini of Flagstaff, Arizona; Dr. Diane Fini of Cicero; Susan (Harvey) Wolkoff of Boston; and Robert (Elizabeth) Fini of Manassas Virginia. She also leaves behind seven grandchildren: Dr. Paul (Nicole) Fini; Kristen (Mike) Bamberg; Eric (Dara) Wolkoff; Laura (Nick) Clote; Dr. Maria Fini; Kelly (Evan) Fulton; and Nicole Fini. Also mourning her loss are Anita's five great-grandchildren: Ethan, Brendan and Asa Bamberg; and Wesley and Evelyn Wolkoff.
A private funeral service will be held for the immediate family only. A memorial service will be held later this summer, when COVID-19 restrictions allow.
In lieu of flowers, donations can be made to St. Ann's Church, 4461 Onondaga Blvd., Syracuse N.Y. 13219.