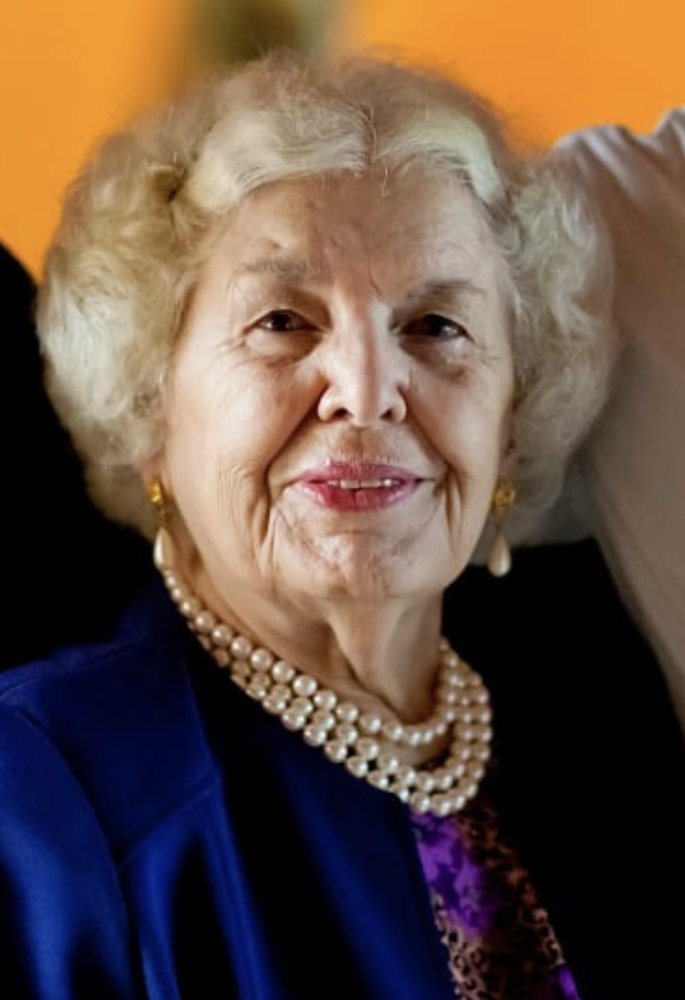 Obituary of Elvira Honis
Elvira "Vera" DeSimone Honis, 97, of Westvale passed away peacefully at her home on Sunday February 7th with her family by her side. Vera was the beloved wife of Joe, an adoring matriarch of eight and a tireless advocate for the underdog.
Born in Niagara Falls to Joseph and Emma Desimone, Vera grew up in Solvay, graduating from Solvay High School in 1941. She later attended Powelson Business Institute which led to secretarial jobs at the airbase during the war years. Her family then moved to California where she worked for the Office of Price Admin (OPA) for three years.
A move back to Syracuse changed everything: Vera met Joe, the love of her life, upon his return from World War II in 1945. They married at West Genesee United Methodist Church and spent 74 years together, building a life around family, church and community. At Church they were part of the Happy Timers social group for many years. Vera was also a member of the United Methodist Women . Joe taught Sunday School each week. Vera collected cribs for babies in need. She managed the yearly March of Dimes campaigns for decades. She was a volunteer "court watcher," sitting in court rooms to observe and ensure honest, fair proceedings. And she was friends with the Berrigan brothers, marching for and forever working towards social justice. She was intolerant of prejudice of any stripe.
Vera gave everything to her (frequently unruly) brood, packing for and cajoling a family of 10 for yearly camping trips to the Adirondacks. Vera was honest without exception, once driving back to the grocery store when she discovered a clerk had given her back 3 cents too much. Vera was an inveterate puzzler - both jigsaw and crossword - and ruthless card player with her sister, Arline. And she was an ardent devotee of pastries, chocolate and a good fruit pie.
She knew the art of giving like a queen and made her family and friends feel like royalty. She never forgot a birthday and gave the perfect Christmas presents.
After their son's unexpected death at age fourteen, Vera and Joe put their grief into action. They organized monthly block parties with the express goal of knitting the community together and giving neighborhood kids a sense of belonging.
Later when the kids were grown Vera took a position as secretary to the Dean at S.I. Newhouse School of Public Communications at Syracuse University. While there she was respected and beloved by students and faculty for her honesty, reliability and excellent work ethic.
Vera is predeceased by son Gary, grandson Nathan, sister Corrine and son in law Bob. She is survived by husband Joseph, sister Arline (Chris) Russo, daughters Nancy Rodak, Linda Lovig, Kathy (Steve) Garty; sons Joseph (Kathy), Robert (Mary), John (Leslee), Mark (Ann). Also grandchildren David, Gretel, Elizabeth, Matthew, Ann, Neysa, Leif, Jeremy, Sarah, Jacob, Trevor, Dylan, Nicholas, Hannah, Jayson and Jackson. She was also survived by 18 great grandchildren as well as numerous nieces and nephews. Our deepest gratitude goes out to Sandy Cutler who helped care for Vera and Hospice who helped her pass peacefully.
On the morning of her passing, her young great granddaughter Irina woke up, gazed out at the sunrise on the snow and said Grandma Vee was the start of our whole family. Vera was the start, the home, the standard for goodness and decency. We carry her with us always.
A private service will be held this week for immediate family with a celebration of her life in the spring. In lieu of flowers donations may be made to the Food Pantry of Central New York or the Juvenile Diabetes Research Foundation.