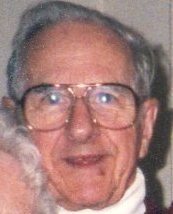 Obituary of Martin Francis "Marty" Kress
Marty Kress unexpectedly passed away on July 5, 2014. He was a loving husband, father, grandfather and great grandfather. A lifelong resident of Syracuse, New York, Marty was a graduate of St. Anthony of Padua High School and a proud veteran of World War II and the United States Air Force . He is survived by his loving wife of 68 years, Margaret Flannery Kress. Together they visited every state in the Union. He is also survived by his four children and their spouses, nine grandchildren, and eight great grandchildren. Marty retired from the US Post Office in 1984 and was a communicant of Holy Family Church in Camillus, New York. He will be dearly missed by family and friends. Services will be held at 10am on Wednesday, July 9, 2014 at Holy Family Church, Fairmount. Burial will be in Onondaga County Veteran's Memorial Cemetery. In lieu of flowers, the family would support donations to the Camillus police and emergency medical departments, 4600 W. Genesee St., Syracuse, NY 13219.
Wednesday, July 9, 2014
Onondaga County Veterans Cemetery
Howlett Hill Rd.
New York, United States
10:00 am - 12:00 am
Wednesday, July 9, 2014
Holy Family Church
New York, United States