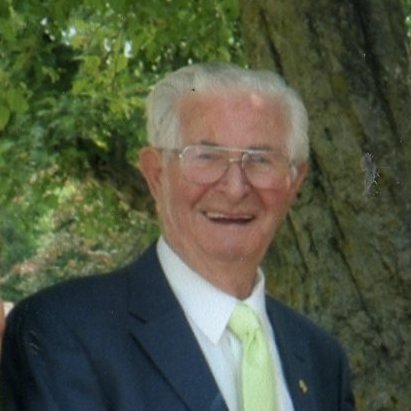 Obituary of Timothy "Tim" Ryan
A true Irish soul slipped away in the early hours of Friday, August 8th, 2014. Timothy (Tim) Ryan, who celebrated his 87th birthday on August 4th, passed away peacefully in his home surrounded by his loving family. Born in Tournafulla, Co. Limerick, Ireland to Brigid (Keating) and Michael Ryan, Tim had the happiest of childhoods. Throughout his life he regaled his family and friends with stories of the adventures and loving people that constituted his Ireland of the 1930s and 1940s. Like so many Irish of the time, Tim left Cobh, Co. Cork on April 9th, 1949 aboard the Britannia at the age of 21. He was bound for America with nothing more, and nothing more needed, than an indomitable faith and a strong work ethic. One of the last immigrants to pass through Ellis Island, he soon found himself in Syracuse, which he proudly called home for some 65 years. He returned to Ireland in July 1953 to marry his childhood sweetheart, Peg Brosnahan. The couple celebrated their sixty-first wedding anniversary on July 30th. With Peg, he lived a life filled with sweet happiness, embracing all those fortunate to know his great love and generosity. He loved music, singing and dancing, tending his rose garden and traveling to Ireland, Hawaii, Boston and Cape Cod. Tim also enjoyed golfing and cheering on the SU basketball team. Tim's two defining qualities were his unwavering loyalty to his family and his rock-solid faith, making Most Holy Rosary his spiritual home for over 60 years. Tim was an employee of the Borden Ice Cream Company for thirty-three years. He was a past member and trustee of the Teamsters Local 316 and a past member of the Holy Name Society and Most Holy Rosary Ushers Club. Tim was also an active Democratic Committee Person. Survivors include his wife, Peg; his children, Eileen (John) McAuliffe of Needham, Massachusetts, Michael of Syracuse; his granddaughters, Mairead and Bridget McAuliffe, who were the light of his life, bringing him immeasurable joy and happiness; his brothers, Michael (Margaret) Ryan of New Milford, New Jersey and Sean (Anne) Ryan of Boynton Beach, Florida; the Ahern clan of Syracuse, family to Tim and Peg since his arrival from Ireland; and many, many loving sisters-in-law, brothers-in-law, nieces, nephews and cousins. Tim was predeceased by his brothers, Patrick Ryan and Daniel Ryan. Services will be at 10:15am on Saturday, August 16th at the Edward J. Ryan and Son Funeral Home, 3180 Bellevue Avenue and a Mass of Christian Burial will be held at 11:00 am at Most Holy Rosary Church, 111 Roberts Avenue, Syracuse. Burial will be at St. Mary's Cemetery, Dewitt, NY. Calling hours are from 4:00 to 7:00 on Friday, August 15th at the funeral home. Contributions can be made to Most Holy Rosary Church, 111 Roberts Avenue, Syracuse, NY 13207 and Hospice of Central New York, 990 Seventh North Street, Liverpool, NY 13088.
Saturday, August 16, 2014
St. Mary's Cemetery
New York, United States
4:00 pm - 7:00 pm
Friday, August 15, 2014
Edward J. Ryan and Son Funeral Home
3180 Bellevue Ave.
New York, United States
11:00 am - 12:00 am
Saturday, August 16, 2014
Most Holy Rosary Church
New York, United States