3180 Bellevue Ave | Syracuse, New York 13219 | Phone: (315) 468-3443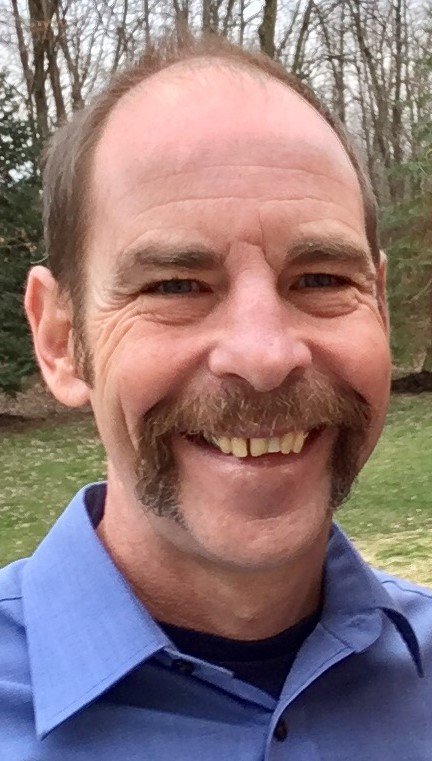 Obituary of Sean Wallace
Sean Fitzgerald Wallace, 52, of The Valley, died unexpectedly on Saturday, April 21st. Sean was born on January 8, 1966, in Passaic, NJ, but spent most of his youth in Manchester, NH. He graduated from Lyndon State College in Lyndonville, Vermont, and fell so in love with the Northeast Kingdom that he stayed in Vermont for nearly 30 years. He was an expert telemark skier and avid cyclist, and he rode to work in all but the worst weather after moving to Syracuse in 2015.
Sean was a lifelong Yankees fan who rarely missed a game on TV. He was also a great fan of live music and attended many concerts and music festivals throughout the Northeast. Sean was clever and loved plays on words, but his sense of humor could be sophomoric—no doubt part of why he was so popular with the middle schoolers he taught in rural Vermont. He had an empathetic way of listening to others that made them feel truly heard, and his own struggles with addiction and mental health issues made him an outstanding peer mentor at Berkana, the crisis respite house he managed for AccessCNY. Sean's true calling was helping people, and Berkana was the perfect job for him.
Sean is survived by his fiancée, Kristen Costello; his mother, Maureen Gould; his father, Charles Wallace; his sister, Mary Shannon (Rich) Conover; his brother, Kevin; his niece, Samantha Wallace and his nephew, Jack Wallace. He will be greatly missed by his loving family and by all whose lives he touched.
A Mass of Christian Burial will be held at Our Lady of Hope at 11:00 a.m. on Thursday, April 26th. The family will receive friends on Friday, April 27th, from 4:00 p.m. to 7:00 p.m. at the Edward J. Ryan and Son Funeral Home, 3180 Bellevue Ave. Burial will be private.
Donations may be sent to AccessCNY, 1603 Court Street, Syracuse, New York 13208, to honor Sean's memory and his great work there.