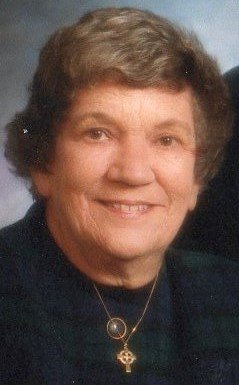 Obituary of Cherry Agnes McCurn
Cherry Agnes Solar McCurn passed into eternal rest on Saturday, March 14, 2020 surrounded by her loving family while under Hospice care. Born on May 2, 1926 in Watertown, NY, she was the daughter of James and Alma Solar. She attended Syracuse schools and graduated from Cornell University. Cherry married John Francis McCurn on September 17, 1949 in Syracuse, NY and they celebrated 58 years of marriage together.
Cherry was a remarkable wife, mother, grandmother and great grandmother; a role model for all who knew her and a trailblazer for all of who came after. In her role as head lifeguard at Onondaga Park, she was the boss over a young man named John (whom she later married even though he jokingly accused her of "robbing the cradle"). Cherry went on to graduate from Cornell University in the male dominated field of Economics. Interests in Ornithology and Botany encouraged her lifelong love of birds and gardening. Her skills translated to creative flower show entries and lifelong attraction to greenery and flora. An amateur ornithologist, her knowledge and love of birds instilled a respect and love of nature in all of her offspring (although she could be seen patrolling the shore of Chaumont Bay for snakes with her bb gun to the glee of her grandchildren)
Mom had a steel trap of a mind that impressed all she came in contact with; serving as Treasurer of Kappa Alpha Theta at Cornell, Treasurer for the Kishwaukee Hospital Auxiliary, Sycamore, IL, Treasurer of the PTA at Onondaga Road Elementary, Treasurer of Marco Island Garden Club for years, Treasurer for the Independence Point Homeowners association , and preparing taxes for H&R Block. As a hospital volunteer she helped implement a Mammography clinic at Kishwaukee hospital in Sycamore, Illinois. She also enjoyed volunteering at Community General Hospital in Syracuse, NY. She and John helped with the creation of the Onondaga Free Library and served on its first board of directors.
Always so well put together, she was a very devoted and organized mother to six diverse children and all of their activities. They learned to sail at her tutelage, loved camping and swimming, scout activities and exploring. She welcomed them to loving spaces in Chaumont, NY and Marco Island, FL where they were able to spend quality time together and form forever bonds. Her great friendship with lifelong childhood friends instilled in her children the joy of laughter and long- term bonds. Gifted with her mother's creative skills, her Christmas stockings are a legacy for generations to come.
In her circle of Life, Cherry and John traveled extensively and researched their roots; genealogy was a favorite test for her ingenuity and inquisitiveness. She managed camping trips to the Wilds with 6 young children, even after a visit by the bears. The best Mac and Cheese in the world was found at her table and her Reuben sandwich made carnivores out of vegetarians.
Cherry Solar McCurn is survived by her loving family; her children Mary (Ken) Petrones of Overland Park, KS, Rene (Nick) Schremmer of Lake George NY, John (Mary Lee) McCurn of Syracuse, NY, Ruth Scruggs of Camillus, NY, Patricia (Eric) Countryman of Schenectady, NY, and James (Charlene) McCurn of North Vernon Indiana; her grandchildren Kevin Petrones (Helen Byun) of Abu Dhabi, UAE, Kathleen (Ian) Tighe of Gillette, NJ, Kristen Schremmer (Eric Buso) of Colony, NY, Elizabeth Smith of Cortland, NY, Jane (Taylor) Moseley of Syracuse, NY, Dr. Candace Scruggs (Jon Ohnezeit ) of Skaneateles NY, Laura (Tom) Warner of Marcellus, NY, Jennifer Scruggs (Derrick Speas) of Clemmons, NC, Carl Scruggs III (Christine Terrell) of Rockville, Md, Cherry (Dustin) Smith of Lombard, IL., Meghan (Leo) Silvia of New York, NY, Kelly Countryman of Schenectady NY, Benjamin (Sarah) McCurn of Lexington, KY, Alexander (Joni) McCurn of Chambersburg, PA, Joshua (Paige) McCurn of Lexington, KY; and her great grandchildren Aidan and Tyler Morrissey, Grace and George Ohnezeit, Audrey and Jack Warner, Sydney Speas, Joshua Smith, Ellie and Logan Silvia, Caitlynn, Devin and Ethan McCurn, Jameson McCurn, and Adam and Chase McCurn.
She is predeceased by her husband John F. McCurn, her parents James and Alma (Haley) Solar, her in-laws Judge Francis D. McCurn and Grace McCurn and her granddaughter Tricia (Schremmer) Morrissey.
She was a devoted member of the Catholic Church at All Saints parish in Chaumont, NY, and instilled faith and appreciation in all of her children for worship. Altar rosary society and donations to the needy were important to her. She also enjoyed collecting wild flowers and garden flowers for the church altar.
In lieu of flowers memorial contributions may be made to St. Jude's Children's Hospital, Kappa Alpha Theta Memorial Scholarship Fund, Francis House of Syracuse, NY and the McMahon Ryan Child Advocacy Center.
Mass of Christian burial will be held at St. Mary's Cemetery Chapel, Dewitt, New York on Wednesday March 18th at 11:00am with visitation at St Mary's Chapel prior to service from 9-11am. Burial to follow in St Mary's Cemetery.
To send flowers to the family or plant a tree in memory of Cherry McCurn, please visit Tribute Store
Calling Hours
9:00 am - 11:00 am
Wednesday, March 18, 2020
St. Mary's Cemetery Mausoleum
4100 E Genesee St.
DeWitt, New York, United States
Funeral Service
11:00 am
Wednesday, March 18, 2020
St. Mary's Cemetery Mausoleum
4100 E Genesee St.
DeWitt, New York, United States
Burial
11:30 am
Wednesday, March 18, 2020
St. Mary's Cemetery
<nodata>, <nodata>
Dewitt, New York, United States
315 475-4639
3180 Bellevue Avenue
Syracuse, New York 13219
Phone: (315) 468-3443
Fax: (315) 468-6004
Email: info@edwardjryanandson.com
Have A Question? We make it easy to get the answers you need.
Looking for something you can't find? We make it easy to get the answers you need. Please feel free to contact us at anytime, we are available by phone or e-mail, or drop by the office in person. We are always here to help