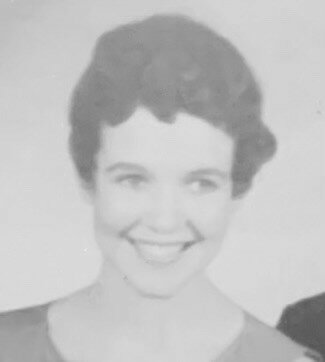 Obituary of Margaret Ann Kerwin McCarthy
Please share a memory of Margaret to include in a keepsake book for family and friends.
Margaret Ann Kerwin McCarthy, known as Peggy, was born in Syracuse, New York on December 13, 1937. She was the second of six adorable children born to Matthew and Catherine (nee Ryan) Kerwin.
The six Kerwin children attended Most Holy Rosary school a few blocks from the family home on Crossett Street. Peggy took pride in her studies and graduated second in her class at Most Holy Rosary high school in 1955. Her high school boyfriend, Mark McCarthy, graduated third in the class. Mark and Peggy met in kindergarten where their teacher anointed him "Best Boy" and her "Best Girl." Their birthdays were two weeks apart, to the day.
Peggy went on to obtain her bachelor's degree on a scholarship from Marywood College in Scranton, Pennsylvania, majoring in mathematics, while Mark secured his bachelor's degree in economics from The College of the Holy Cross in Worcester, Massachusetts.
Mark and Peggy married on the first available Saturday after their respective college graduations, July 4, 1959. After a short honeymoon with a stay at the Thayer Hotel at West Point followed by a trip to Virginia Beach, and a stint at the Marine Corps officer training base in Quantico, Virginia, Mark and Peggy settled in at Camp Lejeune in North Carolina, where their first two children were born. After the untimely death of Mark's father in 1962, Mark was honorably discharged from the Marines and Mark and Peggy returned to Syracuse, so that Mark could assist in running the family's restaurant business. There they welcomed 5 more children.
The family took annual camping trips for years, cramming into a Volkswagen camper and later a van, and with the children and Peggy rotating among the various seats (including one seat, consisting of a cooler with a pillow placed on top) while Mark handled most of the driving. The family lived for many years on Robineau Road, first in the 500 block before moving to the 200 block in the late 1980's, and then settling into a house on Twin Hills in the early 2000's. Long before "date nights" were popularized, Mark and Peggy had a vibrant social life consisting of weekend trips away to New York City or to Montreal while the kids were tended to by relatives and sitters. They also maintained a tight group of neighborhood friends and spent nights out playing bridge or otherwise socializing. Family gatherings were always a big part of their lives, and not only during the holidays. "Tuesday night" was also a weekly tradition when Peggy's siblings, along with friends and neighbors, gathered for dinner. She taught her children by example many things: that working and parenthood combined were not impossible ; that you could be a loving and supportive spouse while still maintaining your own opinions (although it certainly helped that Mark was her spouse because he wanted to hear her opinions and views as much as she wanted to give them); the importance of having deep and meaningful friendships and that, no matter how crowded your house may be there is always room for one more chair at the table.
As the children grew older and the prospect of multiple simultaneous college tuition bills loomed, in the late 1970's, Peggy ventured out into the workforce. Peggy took courses, was hired first by BOCES and then by Empire Blue Cross Blue Shield (later IBM) and worked as a computer programmer for the next 30 plus years. During her off hours, she was an idyllic grandmother, much like her mother, and provided her children with hours and hours of free and loving babysitting for her grandkids. She was an avid reader and always had time to offer wise and nonjudgmental advice to the many people who sought it from her. Peggy was unflappable. No matter the crisis she always managed to stay calm and level headed.
For Mark and Peggy's 50th Wedding Anniversary in 2009, seventeen members of the immediate family traveled to Ireland, setting up base in a town where Mark's longtime friend and Holy Cross roommate Charlie McCabe owned a house looking over the Atlantic on the Northwest Coast. The family is grateful for the loving care Peggy received from home health aides Kerri, Gloria, Ashley, Kiarra, Hope, Amanda, Stephanie, Harley, Tracy, Ariana, Ivelis, Kelley, Kaliece, and others, which permitted Mark and Peggy to stay together in their home, where they received great comfort from each other's continued, loving presence and frequent visits from friends, neighbors, and relatives.
Peggy is survived by her husband of 64 years, John Mark McCarthy, seven children (Mark Patrick, Kathleen Elizabeth (Gennaro Bruni), Patrick Matthew (Karen), Michael Paul, Kerry Louise (Patricio Camacho), Matthew Patrick ("Moody") (Molly Mandell) and Sara Ann), thirteen grandchildren (Mark Paraskevas, Luke Bruni, Madeline McCarthy, Sean McCarthy, Megan McCarthy, Carly McCarthy, Catherine McCarthy, Elizabeth McCarthy, Ruby McCarthy, Lola McCarthy, Mia Scott, Omar Robinson and Cassius Robinson), five siblings (Mary Elizabeth Byrne, Matthew Kerwin, Richard Kerwin, Edward Kerwin and Michael Kerwin), and numerous nieces and nephews.
Funeral services will be held on Friday, September 15, 2023 at 10am at Most Holy Rosary, 111 Roberts Ave. Calling hours will be held on Thursday, Sept. 14, 2023 from 4 to 7pm at the Edward J. Ryan and Son Funeral Home, 3180 Bellevue Ave. Burial will be in St. Mary's of the Lake Cemetery, Skaneateles.
In lieu of flowers, donations may be made to a charity of your choice.
To send flowers to the family or plant a tree in memory of Margaret McCarthy, please visit Tribute Store

3180 Bellevue Avenue
Syracuse, New York 13219
Phone: (315) 468-3443
Fax: (315) 468-6004
Email: info@edwardjryanandson.com
Have A Question? We make it easy to get the answers you need.
Looking for something you can't find? We make it easy to get the answers you need. Please feel free to contact us at anytime, we are available by phone or e-mail, or drop by the office in person. We are always here to help